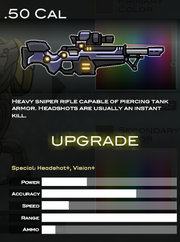 .50 Cal

Technology

Human

Type

Long Range

Special

Headshot+, Vision+

Price

Free
"Heavy sniper rifle capable of piercing tank armor. Headshots are usually an instant kill"-Description

The .50 Cal (Dimunitive for .50 caliber sniper rifle) is a sniper of Raze 3.
Overview
[
]
The .50 Cal Sniper is the first of the non-premium long-range weapons to be unlocked, before the Pulsator. It does about 30% damage on a normal alien, damage is doubled on a headshot. With it's upgrade that gives headshot++, crostchshot+, buttshot+, a carefully aimed shot can kill in one hit.
Prominent Users
[
]
Ghost is seen using this weapon, especially in Level 10 Human: Sniper Support
Upgrades (effects)
[
]
Sight
Barrel
Clip
Price
6x Scope

(Vision+)

Silencer
Bullet Feeder
180c
12x Scope

(Vsion+)

Muzzle Break
Extended Clip
210c
LED Sight

(Vision++)

Heated Barrel

(Headshot++, Crotchshot+, Buttshot+)

Double Clip
240c
Spiral Barrel
Spaz

(Autofire)

270c
Trivia
[
]
The .50 Cal Sniper's appearance seems to be modeled after the sniper rifle from Unreal Tournament 3.