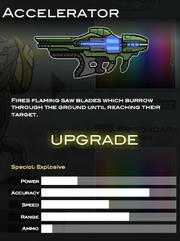 Accelerator

Technology

Alien

Type

Explosive

Special

Explosive

Price

1,500c
"Fires flaming saw blades which burrow through the ground until reaching their target."-Description

The Accelerator is a heavy weapon of Raze 3.
Is a good supportive weapon that is almost balanced. Combined with speed, accuracy and range, this weapon acts very well for an assault, although the damage and ammo is its disadvantages.
Upgrades (effects)
Edit
Clip
Barrel
Cannon
Price
Bullet Feeder
Power Barrel
Wide Nose
390c
Extended Clip
Conservative
Narrow Cannon
430c
Double Clip
470c
Spaz

(Autofire)

510c
==
Trivia ==
Actually, this weapon doesn't burrow through the ground. The description itself is a duplicate of the Shredder's one.