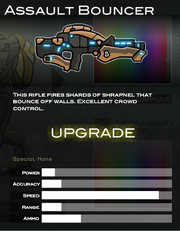 Assault Bouncer

Technology

Human

Type

Automatic

Special

None

Price

1000c
"This rifle fires shards of shrapnel that bounce off walls. Excellent crowd control"-Description

The Assault Bouncer is a weapon of Raze 3.
Description
Edit
The Assault Bouncer is the third of the automatics after the Bubble Blaster and before the hail storm. Its bullets bounce off walls so if you are higher than your opponent you may riccochet the bullet off the wall to kill him while he's wondering what hit him.
Upgrades (abilities)
Edit
Barrel
Stock
Trigger
Price
Silencer

Steel Stock

(Headshot+, Crotchshot+, Buttshot+)

Bolt Trigger
285c
Muzzle Break
Carbon Stock

Double Tap

(Multi-shot)

320c

Heated Barrel

(Headshot+, Crotchshot+, Buttshot+)

355c
The Assault Bouncer seems to possess similarities to the Bubble Blaster in terms of appearance and behavior. It is likely because the Humans created the Assault Bouncer's design by reverse-engineering the Aliens' design for the Bubble Blaster, or vice versa.
The Assault Bouncer seems to resemble the Longbow AVRiL from Unreal Tournament 3.
Community content is available under
CC-BY-SA
unless otherwise noted.