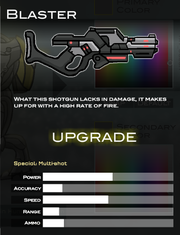 Blaster

Technology

Type

Close Range

Special

Multi-shot

Price

2,000c
"What this shotgun lacks in damage, it makes up for with a high rate of fire"-Description

The Blaster is a weapon of Raze 3.
Is a weapon that fires a group of sticky grenades that sticks onto an enemy or the ground and explodes after a short period. Posseses a long range and a decent amount of damage, but not as good as other shotguns.
Upgrades (effects)
Edit
Cannon
Trigger
Grip
Price
Wide Nose
Hair Trigger
Grip
495c
Narrow Cannon
Auto Trigger

(Autofire)

Magnetic
540c
Blaster

(Autofire)

Bolt Trigger
Ergonomic
585c
Memory Foam
630c
The Blaster appears to be based off the P.E.P.S. from Deus Ex: Human Revolution.
Community content is available under
CC-BY-SA
unless otherwise noted.