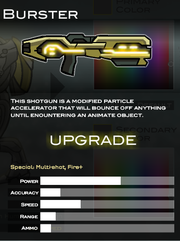 Burster

Technology

Alien

Type

Close Range

Special

Multi-shot, Fire+

Price

1000c
"This shotgun is a modified particle accelerator that will bounce off anything until encountering an animate object"
―In-game description

The Burster is the third close range weapon in Raze 3.
It shoots multiple orange projectiles that bounce off of surfaces. This bouncing ability allows the user to attack enemies above and below them. It is a very useful weapon in many situations and is definitely an excellent low cost shotgun, due to its ability to travel in the scenery for a short time and its incendiary effect. It can kill most enemies with one shot if all projectile hits.
Upgrades (effects)
Edit
Barrel
Ammo
Grip
Price
Silencer
Armor Piercing

(Robot-Damage+)

Grip
285c
Muzzle Break
Hollow Point

(Human-Damage+)

Magnetic
320c
Heated Barrel

(Headshot+, Crotchshot+, Buttshot+)

Kriptonite

(Alien-Damage+)

Ergonomic
355c
Corrosive Tip

(Zombie-Damage+)

Memory Foam
390c
Phosphorus Coat

(Fire+)

425c
The Burster seems to bear some resemblence to the Alloy Cannon from XCOM: Enemy Unknown.
Community content is available under
CC-BY-SA
unless otherwise noted.