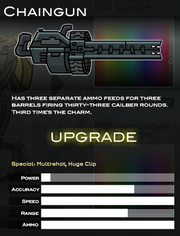 Chain Gun

Technology

Human

Type

Automatic

Special

Multi-shot, Huge Clip

Price

Premium
"Has three separate ammo feeds for three barrels firing thirty-three cailber rounds. Third time's the charm"-Description

The Chain Gun is a weapon of Raze 3.
Being available as a huge clip weapon, is one of the best weapon to use. It fires 3 bullets simultaneously, in a quick succession, which reaches at a good range and hardly ever suffers recoil. Damage is considerably good.
Is partially based on the MBS-9M Hydra, a fictional chain gun appeared in the 2009 film James Cameron's Avatar (often shortened as Avatar). However, it was rearranged to look like a hand-held minigun, as oppossed to the original turret version.
Community content is available under
CC-BY-SA
unless otherwise noted.