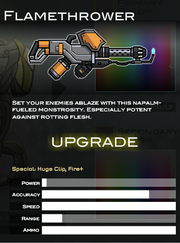 Flamethrower

Technology

Human

Type

Close Range

Special

Huge Clip, Fire+

Price

2,250c
"Set your enemies ablaze with this napalm-fueled monstrosity. Especially potent against rotting flesh"-Description

The Flamethrower is a close range weapon from Raze 3.
It is similar to the flamethrower idea from unreal tournament.
The weapon itself is decent against any enemy due to its incendiary effect, but it takes time to kill an enemy, so isn't best to use with enemies that carries a shotgun or another flamethrower.
The description "Especially potent against rotting flesh", clearly indicates that is good against zombies, taking less time to damage them.
Upgrades (effects)
Edit
Sight
Barrel
Grip
Price
LED Sights

(Vision+)

Power Barrel
Steady Grip
547c
Range Amplifier

(Vision+)

Double Shot

(Multishot)

Two Hands

(Vision+)

595c
Precision Targeting

(Headshot+, Crotchshot+, Buttshot+)

Hyper Grip

(Vision+)

642c
Sight Alignment

(Vision++)

690c
The Flamethrower's appearance seems to be based off some of the alien weapons seen in the movie District 9, including the ARC gun and the AMR-B05 "Repeater". There is some irony in this, as the Flamethrower is classified as a Human weapon in Raze 3, despite being supposedly based off weapons of alien origin.
Community content is available under
CC-BY-SA
unless otherwise noted.