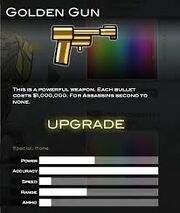 WEAPON


Golden Gun

Origin:
Human
Weapon Type:
Side Arm
Special:
None
Unlocked with:
Premium Content
Price:
n/a
"This is a powerful weapon. Each bullet costs $1,000,000. For assasins second to none"
―In-game description
The Golden Gun is an exclusive side arm in Raze 3.
A powerful gun that deals a high amount of damage and posesses an unparalleled accuracy. A single shot onto a weak point harms the enemy and leaves with extremely low health. The problem is that is a bit slow and has a small clip ammo, through is not a problem when balanced with a fast weapon.
Unavailable
The Golden Gun is clearly based on the weapon of the same name from the James Bond movie The Man with the Golden Gun.

Similarly, in Strike Force Heroes, there's also a special weapon in challenges called Golden Gun. Both have a small clip, but does high damage.
Community content is available under
CC-BY-SA
unless otherwise noted.