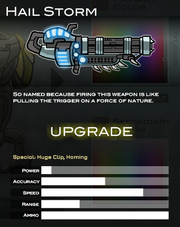 Hail Storm

Technology

Human

Type

Automatic

Special

Huge Clip, Homing

Price

1250c
"So named because firing this weapon is like pulling the trigger on a force of nature"-Description

The Hail Storm is a weapon featured in Raze 3.
Description
Edit
Is a heavy weapon that fires guided snow bullets that deals high damage over the enemy. Since shots creates arcs, the user must aim a bit higher at long distances to compensate the firing sequence.It is similar to an ice chaingun from Raze.
Upgrades (abilities)
Edit
Grip
Barrel
Ammo
Price
Grip
Muzzle Break

Armor Piercing

(Robot Damage+)

337c
Magnetic

Heated Barrel

(Headshot+, Crotchshot+, Buttshot+)

Hollow Point

(Human Damage+)

375c
 Ergonomic

Kryptonite

(Alien Damage+)

412c
Memory Foam

Corrosive Tip

(Zombie Damage+)

450c

Phosphorus Coat

(Fire+)

487c
The Hail Storm seems to be based off the Stinger Minigun from Unreal Tournament 3.
Community content is available under
CC-BY-SA
unless otherwise noted.