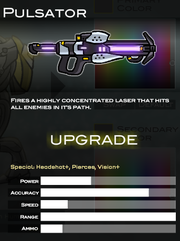 Pulsator

Technology

Alien

Type

Long Range

Special

Headshot+, Pierces, Vision+

Price

750c
"Fires a highly concentrated laser that hits all enemies in it's path"-Description

The Pulsator is a returning Raze 3 weapon that derives from the previous one.
Overview
[
]
As with the human .50 Cal, is a standard all-around sniper rifle that, while is a bit slow, is able to hit multiple enemies in one shot due to its piercing nature, making it more dangerous than its counterpart. Being the first alien sniper rifle available, it still gets the job done easily. The stats are better overall than the .50 Cal.
Upgrades (effects)
[
]
Sight
Cannon
Stock
Price
6x Scope

(Vision+)

Wide Nose
Steel Stock

(Headshot+, Crotchshot+, Buttshot+)

232c
12x Scope

(Vision+)

Burst Shot

(Multishot)

Carbon Stock
265c
LED Sight

(Vision++)

Blaster

(Autofire)

297c
Trivia
[
]
The Pulsator appears to be modeled after the Shock Rifle from Unreal Tournament 3.
Upgrading the Pulsator with any sight upgrade and Carbon Stock will give the player the maximum accuracy available.