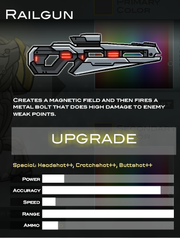 Railgun

Technology

Human

Type

Long Range

Special

Headshot++, Crotchshot++, Buttshot++

Price

1,750c
"Creates a magnetic field and then fires a metal bolt that does high damage to enemy weak points."-Description

The Railgun is a weapon of Raze 3 and the alien creation of the human Railgun.
The Railgun is very accurate, pretty fast and has a good magazine size. It also deals a decent amount of damage when aimed at the weak points, being perfect for an assassination. However, it requires almost a full magazine to take out an enemy with standard shots.
Sight
Barrel
Clip
Price
6x Scope

(Vision+)

Muzzle Break
Bullet Feeder
442c
12x Scope

(Vision+)

Heated Barrel

(Headshot+, Cotchshot+, Buttshot+)

Extended Clip
485c
Iron Sights
Conservative
Double Clip
527c
Power Barrel
Spaz

(Autofire)

570c
Community content is available under
CC-BY-SA
unless otherwise noted.