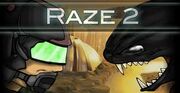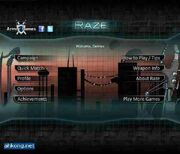 Welcome to the Raze Wiki
This wiki is about the flash game Raze which has been made by Addison Rodomista and Justin Goncalves (Juice-Tin). This wiki is the combined wiki of Raze 1 and Raze 2. Raze is based on a future invasion of Earth by aliens. Both Raze 1 and Raze 2 have been completed and released. Raze 3 is not yet confirmed (but we're sure it will be). The two Raze games can also be played on other websites including Addicting Games and Kongregate.
Justin and Addison are now in a company called Sky9 Games along with Mike Sleva (artist for Siegius and other games) and Selcuk. Visit http://sky9games.com/?p=aboutus for more info.
Play Raze 1: http://armorgames.com/play/5395/raze
Play Raze 2: http://armorgames.com/play/12275/raze-2
Official Raze development website: http://www.raze-online.com
Sky9 Games: http://www.sky9games.com