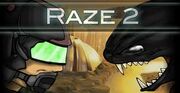 Welcome to the Raze Wiki
This wiki is about the flash game Raze which has been made by Addison Rodomista and Justin Goncalves (Juice-Tin). This wiki is also the combined of both Raze 1 wiki and Raze 2 wiki. Raze is based on a future invasion of Earth by aliens. Both Raze 1 and Raze 2 have been completed and released. Raze 3 is not yet confirmed. The 2 Raze games can also be played on other websites including Addicting Games and Kongregate.
Play Raze 1: http://armorgames.com/play/5395/raze
Play Raze 2: http://armorgames.com/play/12275/raze-2
Official Raze development website: http://www.raze-online.com
Sky9 Games: http://www.sky9games.com
Community content is available under
CC-BY-SA
unless otherwise noted.