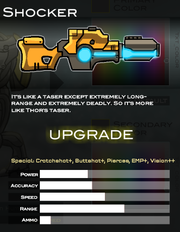 Shocker

Technology

Alien

Type

Long Range

Special

Crotchshot+, Buttshot+, Pierces, EMP+, Vision++

Price

1,500c
"It's like a taser except extremely long-range and extremely deadly. So it's more like Thor's taser"-Description

The Shocker is a new weapon available for Raze 3.
A decent weapon that is able to pass through enemies and deals a good amount of damage. However, is innacurate to do a good shot, even the same as the Gauss Rifle.
Upgrades (effects)
Edit
Cannon
Ammo
Trigger
Price
Wide Nose
Armor Piercing

(Robot-Damage+)

Hair Trigger
390c
Narrow Cannon
Hollow Point

(Robot-Damage+)

Bolt Trigger
430c
Blaster

(Autofire)

Kryptonite

(Robot-Damage+)

470c
Corrosive Tip

(Robot-Damage+)

510c
Phosphorus Coat

(Fire+)

550c
The Shocker appears to be modeled after the Lightning Gun from the Unreal Tournament series.
Community content is available under
CC-BY-SA
unless otherwise noted.