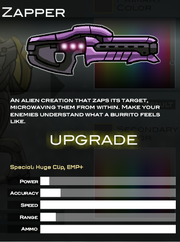 Zapper

Technology

Alien

Type

Close Range

Special

Huge Clip, EMP+

Price

1250c
"An alien creation that zaps its target, microwaving them from within. Make your enemies understand what a burrito feels like"-Description

The Zapper is an alien weapon in Raze 3.
Is a shotgun like weapon that deals a great damage in seconds. Also, posseses a decent range that reaches its enemies with ease, as well as a high ammo that leads to a high duration.
Upgrades (abilities)
Edit
Ammo
Barrel
Grip
Price
Armor Piercing

(Robot-Damage+)

Silencer
Grip
337c
Hollow Point

(Human-Damage+)

Power Barrel
Magnetic
375c
Kriptonite

(Alien-Damage+)

Double Shot

(Multishot)

Ergonomic
412c
Corrosive Tip

(Zombie-Damage+)

Focussed Barrel
Memory Foam
450c
Phosphorus Coat

(Fire+)

487c
Community content is available under
CC-BY-SA
unless otherwise noted.